Men arrested over woman's fourth-floor fall in Walworth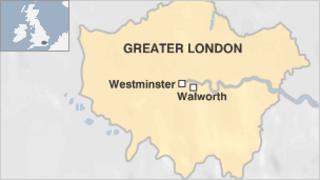 Two men have been arrested after a woman fell from the fourth floor of a building in south-east London.
The 27-year-old woman suffered "potentially life-threatening" injuries in the fall in Walworth, police said.
Officers, who were called to the scene on Tuesday afternoon, later arrested two men on suspicion of attempted murder.
Police are appealing for anyone with information about what happened to come forward.