London free Stop and Shop parking time could increase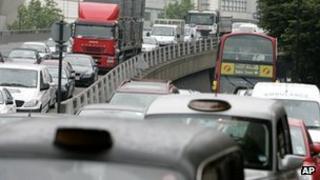 Transport for London (TfL) is consulting Londoners on whether to increase free parking on some of the capital's busiest roads to 30 minutes.
Parking time is currently restricted to 20 minutes at 600 Stop and Shop parking bays across capital.
London's mayor Boris Johnson said he hoped the plans would "boost trade in our high streets".
But the Green Party's Jenny Jones said the plans were a "silly idea that could encourage more drivers".
'Encourage' drivers
Mr Johnson said: "Parking is a big concern for businesses and retailers in London.
"By extending the length of time that drivers can park at more than 600 locations, we can make it easier for Londoners to shop locally and, crucially, boost trade in our high streets and the economy in the process."
But Ms Jones said: "It's time we stopped peddling the notion that cars are the only way that people get to shops. Londoners need pedestrian friendly, 20mph high streets, good public transport access and more cycle parking.
"Allowing people extra time to park is a silly idea that could encourage more drivers, rather than increasing footfall from bus users, cyclists and pedestrians."
TfL's Director for Traffic Enforcement, said: "We're confident that these plans will be welcomed by drivers."
The consultation will run in 19 London boroughs until 16 September.
If the changes are accepted, they will be implemented before the end of the year, TfL said.