Twitter real-time explores Jack the Ripper murders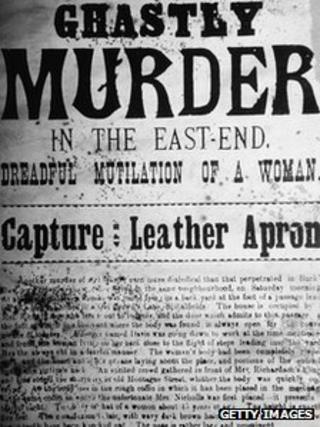 It has been 125 years since Jack the Ripper stalked the streets of London, yet the shadow of his gory legacy still looms large.
The identity of the man who brutally murdered five - possibly more - women in the Whitechapel area of London's East End remains a mystery but the case continues to frighten and fascinate.
Now those intrigued by what life in Victorian London was like during the Autumn of Terror have a chance to experience it in a relatively modern way - through real time tweets in a project called @WChapelRealTime.
Since the start of the year, historians, some calling themselves Ripperologists, have been pulling together documents and photos that paint an evocative and lurid picture of happenings at the time.
From Saturday, their tweets begin to go live, tracing events as they unfolded over a harrowing four months.
The Ripperologists will tweet using hash tagged names of people involved in the case including Det Con Frederick Abberline - a prominent police figure in the investigation.
There will also be tweets from reporters at the time, and local people, for example workers from the nearby Shadwell Docks.
'Gruesome crimes'
So why base a project around the brutal murders of a man whose modus operandi included deep throat slashes, removal of internal organs and facial mutilations?
One of the historians behind the project, Steven Halliday, said: "Jack the Ripper attracted more attention than any other criminal before that time.
"His crimes were so gruesome he disembodied his victims. But he was also never caught.
"His antics were horrific and a microcosm of the horrors of Victorian London. It was a lawless place, with great division in society."
The tweets should also provide a window into life in Victorian London itself.
"Living conditions were pretty grim," Mr Halliday added. "In the East End, you had people living in squalor, no running water, no lavatories and rat-infested flats.
"People lived hand to mouth with no regular incomes, with whole families living in one room.
"If people needed to feed children they'd do whatever they could to survive."
But the tweets will also cover things that changed for the better.
"For example, George Peabody was building decent dwellings for the working classes," said Mr Halliday.
'Innocent victims'
The project should educate and entertain in equal measures, according to its organisers.
Jamie Wolfendale from The History Press, who worked on the concept behind @WChapelRealTime, said he also hoped the use of Twitter would help to introduce a younger generation to a subject they previously may have associated with dusty textbooks.
"Social media is what young people use nowadays. We hope this will engage them in history more."
But is there a chance the project could be seen as churlish, essentially glamorising a series of horrific killings?
Author Richard Jones said: "There have been so many things relating to Jack the Ripper such as tours, movies and books and they have made absolutely millions for the people who have written them and starred in them.
"These murders are glamorised as if they are a tourist attraction with posters showing blood splatters and knives.
"Although 125 years have passed they are still five innocent murder victims."
Mr Jones suggested a plaque should be put up in Whitechapel, where the murders happened, to remember those who died.
"It's the right thing to do and obviously any Ripper tours will have to stop there to view it which will bring it home to people that these women were more than just names in a book," he says.
Mr Wolfendale said: "All the content from the Whitechapel Real Time project has been thoroughly researched using our expert knowledge and resources ensuring the project has been conducted in a dignified, respectful and historically-focused manner."
'Pointing the finger'
Meanwhile, the question on the lips of most people who follow the four-month project is likely to be: Will it reveal the true killer's identity?
Over the years, there has been much speculation over who the Ripper was. Theories have ranged from author Lewis Carroll to Queen Victoria's grandson Prince Albert Victor, although these are widely dismissed.
Sherlock Holmes author Sir Arthur Conan Doyle speculated it could in fact have been "Jill the Ripper", who worked as a midwife and could wear bloody clothes without attracting suspicion.
Like most historians, Mr Halliday has his own theory.
"I think it was probably Nathan Kaminsky, also known as David Cohen," he says.
"He lived in Whitechapel and was a bookmaker so knew how to use knives.
"He was treated for syphilis so perhaps he had a grudge against prostitutes," he added."The women murdered were prostitutes."
"He was incarcerated in Colney Hatch Lunatic Asylum at about the time the murders stopped."
Mr Wolfendale says: "We aim to shed light on potential suspects. But we won't be pointing the finger."