Greenland charity trek death recorded as misadventure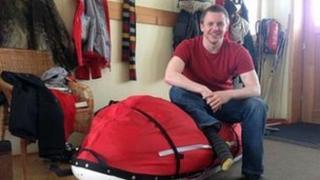 An adventurer died from hypothermia after being hit by a two-day sub-zero storm while on a charity trek in Greenland, an inquest has heard.
Philip Goodeve-Docker, 31, of Ealing, west London, was on the 400-mile trek with two friends when a snowstorm hit.
The three men were trapped in a tent as temperatures dropped to -70C (-94F). Mr Goodeve-Docker died hours before they were rescued.
Coroner Andrew Bradley recorded a verdict of misadventure.
Storm 'rapidly escalated'
The inquest heard Mr Goodeve-Docker, Roan Hackney, 31, and Andrew Norman, 33, were hit by the storm on 26 April.
Mr Hackney told the inquest they knew the storm was coming and prepared themselves to deal with the conditions but it "rapidly escalated out of nowhere" and drifting snow and ice crushed them inside the tent.
He said he tried to go outside to move the snow but visibility was 0.8in (2cm) in front of his face and after calling for help via a satellite telephone, he was told it was impossible to get to them.
He told the inquest: "We were numb with frostbite and it was then that the very real thought that we might not make it formed in our minds - we were just trying to stay alive.
"We were all striving to avoid suffocation. It was horrible not to be able to do anything about it."
Memory of grandfather
Mr Hackney said by the morning of 28 April he was unconscious with hypothermia and Mr Goodeve-Docker had died several hours before.
On hearing the rescue helicopter, he said he put his red gloved hand above the snow and was rescued.
Mr Norman also survived but lost his toes and fingers to frostbite.
Mr Goodeve-Docker had been raising money for the Queen's Nursing Institute (QNI), in memory of his grandfather Patrick Pirie-Gordon.
Mr Pirie-Gordon was the QNI's treasurer and honorary vice-president of the Royal Geographical Society, which helps fund polar exploration.
The total for Mr Goodeve-Docker's fundraising stands at more than £18,000.
This story was amended on 20 August to make clear the recorded temperatures dropped to -70C (-94F) and not -20C (-4F) as previously reported.