Brent Council's virtual receptionist labelled a 'gimmick'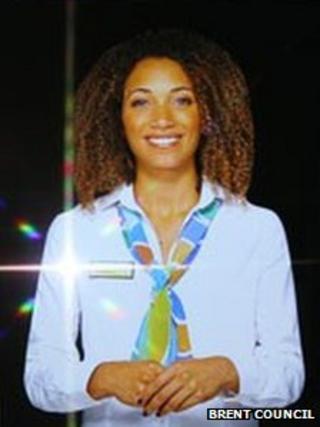 A virtual receptionist who will greet visitors at a north-west London council has been called a "gimmick".
Labour-led Brent Council has invested £12,000 in Shanice, a virtual assistant, which will be projected on to a screen behind a Civic Hall desk.
Shanice will direct people where to go to register a birth or death, apply for a marriage licence, or get married.
But Lib Dem councillor Alison Hopkins said "it's silly" and "will become unfit for purpose enormously quickly".
Similar to the virtual assistants used at airports to provide information about what can be taken onboard planes, visitors will be able to use a touch screen function to key in their question.
'Real people'
They will then receive information about their visit and the documentation they need, although Shanice has a limited number of questions she can answer.
Mrs Hopkins, who is also chair of the budget and finance committee, said: "First and foremost it's detaching from Brent's residents, it's putting an animated face in the way.
"Secondly, Brent is a rainbow borough, we are wonderfully multi-cultural. It's only in English, why not hook up a tablet, which could have been multi-lingual as well?"
Mrs Hopkins added she was sure her constituents would prefer to see the money spent on schemes such as an apprentice who could be trained to do the job.
She said: "It's far better to have real people and what we really need are hanging signs."
But Mark Rimmer, head of registration and nationality services at the council, said Shanice would only be used to direct people either to the administration area on the first floor or to the marriage area on the ground floor.
He said he wanted to save people who were dressed for a wedding ceremony from having to go into the administrative area.
"The hologram doesn't replace anyone," he said.
"It's instead of having a proper receptionist saying the same thing time after time."
Mr Rimmer said Shanice was needed as people did not read the signs, and to hire someone would cost the council £30,000 a year.
The virtual assistant - which is a one-off cost - will save the authority money and is also capable of being translated into different languages, he added.
Shanice, who will be operating in addition to the current receptionists, will start work at the Civic Centre on 21 August.