Legal challenge to new offices-to-flats rules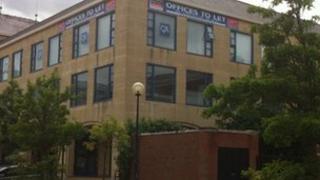 Lambeth Council in London has launched a legal challenge against government legislation allowing offices to be turned into flats.
The move is in response to recent rules allowing developers to convert the buildings without planning permission.
Judicial review papers request Brixton and Streatham town centres be exempt from the rules over fears it will harm trade and job prospects.
The government said it would "vigorously defend" any legal action.
'Free reign'
Under new government legislation, introduced in June, a builder only has to submit a prior approval notice and provided no objections are received work can go ahead.
The scheme was introduced in an attempt to boost the number of new homes built in the UK.
But councillor Pete Robbins, cabinet member for housing and regeneration, said: "Landlords in Brixton and Streatham have been handed a free reign to turn offices into flats - it's simply unacceptable.
"The new regulations could harm trade in these key areas and raise the prospect of job losses, lost business rates and reduced funding for infrastructure."
In a statement, a Department for Communities and Local Government spokesman said: "The department introduced the office to residential change of use policy in order to bring underused offices back into effective use and provide new homes, and we will vigorously defend any legal challenge to the policy."
The council is now waiting to hear back from the government's solicitors.