Virgin passengers left stranded overnight in Canada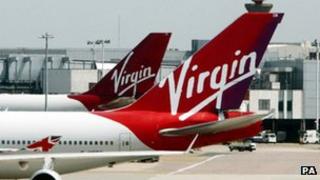 More than 250 passengers travelling on a flight from London have been left stranded overnight in a Canadian airport after an emergency landing.
The 255 passengers were left at Gander Airport in Newfoundland after a "technical fault" forced flight number VS25 from Heathrow to New York to land.
Virgin Atlantic apologised to passengers and said hotel accommodation could not be found.
A spokeswoman said food and drink costs would be refunded.
Plane inspection
The flight was forced to land in Canada at 22:30 local time on Saturday (02:00 BST, Sunday) with a relief flight due to take off from Gander for New York John F. Kennedy at 16:55 (20:25 BST) on Sunday.
A Virgin Atlantic spokeswoman told the BBC: "Virgin Atlantic can confirm that flight VS25 from London Heathrow to New York JFK diverted to Gander due to a technical fault.
"Our engineers are on their way to the site to inspect the plane.
"The safety and welfare of passengers and crew is Virgin Atlantic's top priority. The airline would like to thank passengers for their patience and apologise for any inconvenience caused."
A message on the airline's Twitter account said: "Unfortunately, hotels in the local area are full - and despite our best efforts we've been unable to get any for customers or staff. Apologies for this."