Council calls for 'tough love' approach over GP visits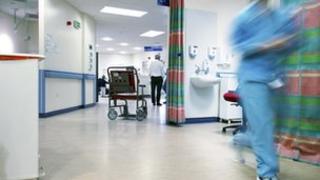 Westminster Council is calling for a "tough love" approach to patients and GPs in an attempt to reduce the number of people visiting A&E unnecessarily.
The council said some patients were waiting weeks for a GP appointment "driving them to A&E instead", costing the public purse more money than a visit to the GP.
Some GPs in Westminster are being urged to open for longer.
But GPs said they were already seeing more patients than acceptable.
'Waiting weeks'
Westminster Council urged more residents to register with their GP claiming a trip to A&E in the borough costs the public purse between £70 and £300, in some cases five times more than visiting a GP.
The council said A&E visits in the six months to March 2013 at Chelsea & Westminster, Imperial College and West Middlesex hospitals cost the public sector between £2.5m and £10.5m.
The Royal College of General Practitioners (RCGP) could not comment solely on the situation in Westminster but said UK-wide GPs were routinely making up to "60 patient contacts in the space of a single day.
"GPs make 90% of NHS patient contacts but receive only 9% of the budget... if general practice was appropriately resourced and we had more GPs, we would be able to provide more care to patients in their communities, so that they do not have to go into hospital unless absolutely necessary."
An RCGP spokeswoman told the BBC most GPs were already open until late into the evening.
Councillor David Harvey, chairman of the council's Health Policy and Scrutiny committee said: "We need to take a tough love approach with both patients and GPs.
"There needs to be an active campaign to encourage patients to register with a GP and see their local surgery, not A&E, as their first port of call, which we can help to support.
"Critically, some GPs need to maximise their opening hours and appointment times to avoid people waiting weeks."