Empty home council tax levy proposed in Camden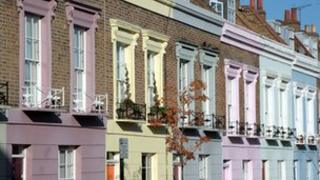 Camden Council wants to charge owners of long-term empty homes an extra 100% on their council tax.
The government already allows local councils to charge an extra 50% council tax on homes that have stood empty for more than two years.
The north London council also wants to charge extra tax on homes that have been empty for more than one year.
Camden was found to be the least affordable UK area in a study, with mortgage payments at 53% of income.
Camden has called on the Department for Communities and Local Government to consider reducing the minimum period a house has stood empty to one year from two years and levy a premium of up to 100% on the council tax charge.
'Crisis point'
A council spokesman said bringing empty homes back into use was a key priority.
"Second and empty homes make it difficult for local people to get on the housing ladder and do not encourage community development," he said.
The council said the extra 50% council tax charge introduced last year on homes that have been empty for more than two years has helped reduce the number of long-term empty homes in Camden from 248 to 162.
Councillor Theo Blackwell, the cabinet member for finance, said in a letter to Communities Secretary Eric Pickles that if their proposal was agreed a further 190 homes in the area could be brought back to use out of the 390 homes that have been empty between one and two years.
"Housing costs and availability are consistently one of the biggest concerns for our residents and we believe we have reached a crisis point in private rental sector housing in the borough," he added.
Empty properties without furniture used to be exempt for six months in England and then get a 50% discount. Now councils can decide to charge the full payment from the start.
Once a property has been empty for two years councils can charge a premium of 50% on top of full council tax.