Heathrow T5 in top three most popular airport terminals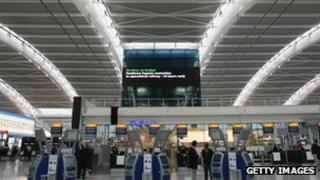 Heathrow Terminal 5 is one of the most popular airport terminals in the UK, according to a survey.
When it first opened in 2008 passengers using the terminal experienced cancellations and long delays, with thousands of bags going astray.
But in the poll, carried out by Which?, Heathrow T5 came third after Birmingham in second place and Newcastle first.
The survey, based on responses from 11,537 travellers, put Luton Airport last on the list.
Based on a list of categories including speed of check-in, airport security and general facilities, T5 had a score of 66%, with Newcastle getting 69% and Birmingham T1 also having 66% but being placed just ahead of T5 in the Which? table.
In contrast, Heathrow's T4 scored 49%, with Heathrow T3 getting 46% and Heathrow T1 scoring 45% in the large airport list.
The results were based on responses from people who were asked about their experiences flying from a UK airports in the past year.
Which? also produced a small airport satisfaction table which showed generally much higher scores than for the big airports, albeit on much lower sample sizes.
Topping the small airport table for satisfaction was London Southend Airport in Essex with a score of 84%, with Humberside second on 81% and Robin Hood Doncaster Sheffield airport with 78%.
The Southend figures were based on a sample size of just 79, with Humberside based on 32 and Robin Hood on 57. In contrast, the large airport scores were based on sample sizes of more than 1,000 for some of the terminals.
The Which? survey also showed that Stansted airport in Essex had the longest average check-in desk waiting times and Southend the shortest.
Which? said its survey results also showed that online check-ins were "failing to put an end to lengthy queues at our airports with very little difference in the time people waited at check-in desks compared with bag drop desks after checking in online".
Which? executive director Richard Lloyd said: "Our research shows a jumbo jet-sized gap in the performance of UK airports with smaller terminals generally performing better.
"It is clear some of our major airports have some work to do if they are to keep more of their passengers satisfied."