Apology after parents banned from son's resuscitation attempts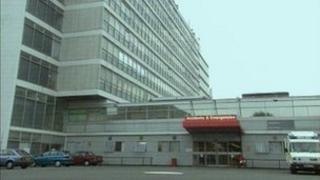 The parents of a toddler who died in a west London hospital have received an apology after they were not allowed to be with him during resuscitation.
Two-year-old Dylan Brown died in 2012 at Hillingdon Hospital from an enlargement of the heart.
An inquest at West London Coroner's Court heard that Dylan's parents were kept outside the resuscitation room.
Christine Mann, Hillingdon matron and nursing services manager, apologised and said it was due to staff shortages.
'No excuses'
She also apologised for not giving Dylan's parents enough information when medical discussions were held about his care.
Ms Mann said: "I have no excuses. They should have been allowed to be with him throughout all the resuscitation.
"We clearly didn't communicate with Dylan's family effectively when staff were adjusting and silencing his monitor.
"We learnt from this case about communicating and documentation."
Coroner Lorna Tagliavini recorded a verdict of death from natural causes and said Dylan was treated "appropriately".
Dylan was admitted to hospital on 9 May with trouble breathing and cold-like symptoms, but on 13 May his condition deteriorated and he began suffering cardiac failure.
'Very poor'
As attempts were made to resuscitate the toddler, his parents Kirk and Tara were not allowed to be with him.
After the third resuscitation attempt Dr Nagi Baraka, a consultant paediatrician, and a registrar decided "the outcome was very poor" and they stopped.
The inquest also heard that Dylan did not undergo a echocardiogram because he had been admitted over the weekend and Dr Barakat said "they are not normally done at the weekend".
But children's heart specialist Dr Shankar Sridharan, said that although an echocardiogram would have indicated what other drugs may have benefitted Dylan, there was no clinical evidence to suggest he needed one.
"If someone called this weekend with the same information we would do the same thing," he said.