Camden Junior School parents lose academy conversion battle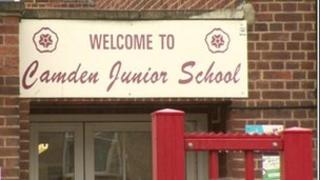 Parents of pupils at a primary school in south London have lost their fight to have it taken over by a local secondary school.
About 95% of parents voted for Camden Junior School to be run by Greenshaw High School.
But the government has decided it should be taken over by the Harris Federation, which already runs 19 academies in London.
The Department for Education said: "Harris remains our preferred sponsor."
Parent Liz Miller said of Greenshaw School: "They've got great professional help in place that will help the school improve and come on in leaps and bounds.
"I just believe they'll keep the school a lovely local school for local children."
'Firm track record'
Greenshaw High School head teacher William Smith said: "We know and understand the local issues. We are a very successful school.
"We have outstanding leadership and management and we have been on, and are improving on, a high level of attainment and achievement as a school.
"We have experience of supporting primary schools."
The Department for Education said: "Harris remains our preferred sponsor as they have extensive experience of turning around previously underperforming schools."
A spokeswoman for Harris Federation said: "As a sponsor with a firm track record of establishing outstanding schools near to Camden.
"We have the plans, resources and expertise to make sure its children, now and in the future, get the excellent education they deserve.
"Although some parents have quietly been contacting us to express their support, we realise that we have a great deal to do to win the hearts and minds of others.
"This is not a challenge from which we will shirk. "