Acid attack duo Kirstie Trup and Katie Gee in A-level success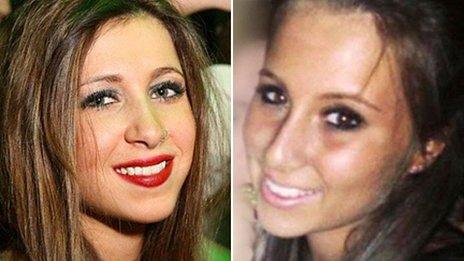 The father of one of the teenagers attacked with acid in Zanzibar has told of his pride as he confirmed that both had secured university places.
Kirstie Trup and Katie Gee, both 18 and from London, are recovering after being attacked on the African island. Both are expected to need skin grafts.
Kirstie's father, Marc, confirmed the pair had achieved the necessary grades.
He said his daughter would study history at Bristol, while Katie will study sociology at Nottingham.
"We are really proud of Kirstie," she said.
"She's a very determined young lady. I'm sure she will go on to achieve success in life."
His daughter was due to have a skin graft at Chelsea and Westminster Hospital after suffering chemical burns.
She had been temporarily discharged after three days of medical care, but returned to hospital for further treatment.
Miss Gee is understood to have sustained more serious injuries and is also expected to need a skin graft.
Earlier she took to Twitter to say: "On the plus side I'm off to Nottingham!"
The young women were enjoying the last week of a trip as volunteer teachers to the island, which is off the coast of Tanzania, when acid was thrown at them in an apparently unprovoked attack.
Both attended the Jewish Free School in Harrow, north-west London.