Ajmol Alom stab murder suspect, 19, charged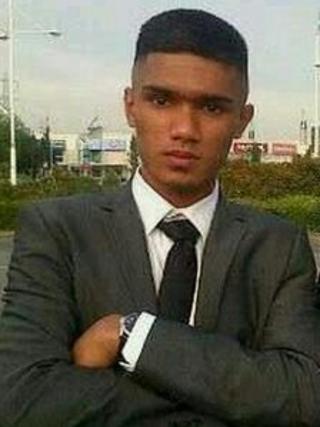 A man has been charged with the murder of a 16-year-old boy in east London.
Ajmol Alom died from a stab wound to the thigh and another 16-year-old boy was stabbed through the cheek in an attack on Monday in Poplar.
Aminur Nazir Khan, 19, of Robin Hood Gardens, is charged with murder and attempted murder and will appear at Thames Magistrates' Court on Thursday.
Police said a second man, also 19, had been arrested on suspicion of murder and remains in custody.
Former mayor of Tower Hamlets Doros Ullah said Ajmol's family were "completely devastated" by his death which happened in Spey Street.
Chris Dunne, head teacher at Langdon Park School, described Ajmol as a "very, very splendid young man" and said he had been awaiting his GCSE results.
Mr Dunne said the teenager was planning to take A-levels before going on to a "very good university" and had spoken of studying medicine.