Ajmol Alom murder: Teenager 'victim of mistaken identity'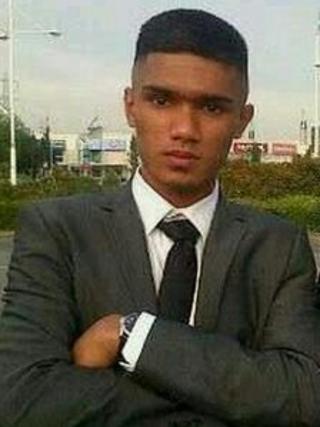 A 16-year-old stabbed to death by a gang may have been killed in a case of mistaken identity.
Ajmol Alom and another 16-year-old boy were attacked in Poplar, east London, on Monday night.
Both were taken to hospital where Ajmol died. The second boy, who was stabbed through the cheek, remains in hospital.
Former mayor of Tower Hamlets Doros Ullah said he had been told Ajmol was not the intended target.
Mr Ullah said: "He was outside with some man who, we understand, had been in some trouble in the past, and three boys that came around were looking for him, so he was in the wrong place at the wrong time and became the victim."
'Completely devastated'
He added Ajmol's family were "completely devastated".
Det Ch Insp Andy Chalmers said: "Initial indications are that Ajmol was with four friends. They were peaceful, they were conducting conversations at the location.
"They were then confronted by five to six other males who were wearing bandanas and were hooded.
"There appears to have been an unprovoked attack when the victim received his facial injuries and then Ajmol was stabbed."
Det Ch Insp Chalmers said Ajmol suffered a serious wound to his upper thigh and that he was not linked to any gangs.
'Caring young man'
Chris Dunne, head teacher at Langdon Park School, said Ajmol was awaiting GCSE results and was a "very, very splendid young man".
He said the teenager was planning to take A-levels before going on to a "very good university" where he had spoken of studying medicine.
"Hardworking, industrious, but also a very caring and thoughtful young man," he said.
The teenager had recently taken part in a conflict resolution project with other young people from Northern Ireland, in which he was "hugely active", Mr Dunne said.
A 19-year-old man has been arrested on suspicion of murder and a post-mortem examination will take place later.