Call for Arsenal 'association' with Vietnam firm HAGL to end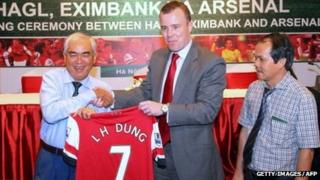 Arsenal fans have been campaigning to get the club to end its association with a Vietnamese rubber firm which has been accused of human rights abuses.
Campaign group Global Witness claims the HAGL (Hoang Anh Gia Lai) Group is guilty of land grabbing and human rights abuse in Laos and Cambodia.
An online petition set up by an Arsenal fan has attracted more than 1,600 signatures.
Arsenal said: "We have no formal academy partnership with HAGL."
"HAGL were our partners for the game in Hanoi," the football club added.
HAGL has said its business is "fully compliant with local law".
In its report, Global Witness said HAGL had been allocated hectares for rubber plantations in Cambodia and Laos.
Residents had been evicted and offered inadequate or no compensation, it claimed.
The north London Premier League side recently toured Vietnam, with HAGL representatives present for some of the visit.
HAGL chairman Doan Nguyen Duc was filmed with Arsenal's marketing director Angus Kinnear and manager Arsene Wenger.
Arsenal's logo has also appeared on HAGL's website.
Online petition
Global Witness campaigner Josie Cohen said: "It's widely known that HAGL and Arsenal do have a high-profile partnership.
"Recently we've seen joint press work, we've seen Arsenal logos plastered all over HAGL advertising.
She added: "Arsenal also recently went to Vietnam in July to play a high-profile football match and that trip, Arsenal told me, was brokered by HAGL.
"The chairman of HAGL used that trip as an opportunity to do joint media work with Arsenal."
Arsenal said: "We have no formal academy partnership with HAGL, they were not sponsors of our recent game in Hanoi and they have no rights to use our name for retail purposes."
An online petition set up by Nic Schlagman said: "The continuing relationship with Hoang Anh Gia Lai (HAGL), our partner in Vietnam, brings shame on our club and its history."
An Arsenal spokesman said: "We are aware of the allegations made by Global Witness. We take them seriously and have discussed them with HAGL and Global Witness themselves."
When the BBC approached the Vietnamese company about the claims made by Global Witness, it said: "HAGL denies involvement in land grabbing, illegal logging or other corrupt activities in Laos and Cambodia.
"We contribute to the development of the local economy by paying necessary taxes to the provincial government, creating jobs for tens of thousands of local residents, and contributing to local communities."