Man pictured on stolen bike at RideLondon cycle event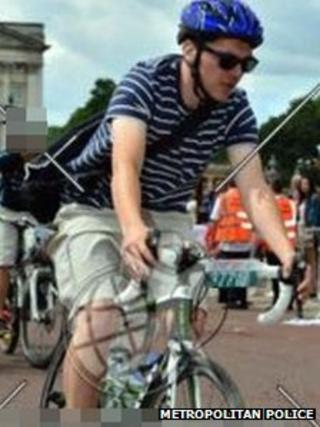 A man has been photographed riding a stolen bike during a cycling event in London after it was taken from one of the participants.
Police are appealing for information after images of the man riding the bike down the Mall were captured by photographers at Prudential RideLondon.
The man was wearing a helmet as he rode the bike, which was stolen from Green Park on 3 August.
The bike's owner was a 42-year-old man who was due to take part in the event.
He found the images of the man riding the bike with the race numbers still attached on a website, and notified the police.
PC Charlotte Brierley, of Scotland Yard's Cycle Task Force, said the theft meant the owner of the bike could not take part in the festival.
She added: "The theft took place in the middle of a very busy event and we are urging people who were there who may have seen anything to come forward."
Up to 50,000 people took part in the cycling festival on 3 and 4 August.