'Boris bike' hire staff stage 48-hour strike in pay row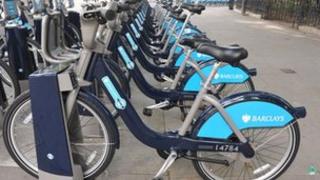 The workers maintaining London's hire bikes have started a strike in a dispute over pay and shift patterns.
The RMT union is unhappy about proposed changes to hours and "the imposition of a 2% pay increase for 2013".
Serco - the company which manages the scheme - says it will try to prevent disruption.
The company's cycle hire contract director, Andrew Hill, said he was "deeply disappointed" about the strike which is due to last 48 hours.
"We have already reached an agreement on the issues the RMT have raised around pay and working pattern changes," he said.
"This was achieved through a comprehensive, thorough and fair consultation with staff that resulted in a pay rise of 2%, which is above the national average and included other improvements to their terms and conditions.
"This strike action is therefore wholly unnecessary."
RMT General Secretary Bob Crow said: "Despite talks with the company we have not been able to make significant progress and so we now have no option but to proceed with strike action.
"This is one of Mayor Boris Johnson's personal flagship projects and it is about time he intervened to ensure the staff get a fair deal."
Transport for London said the row was an issue for Serco.