Thousands celebrate Eid at Morden mosque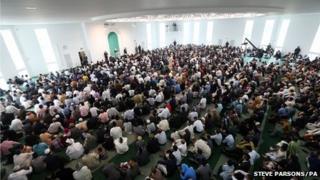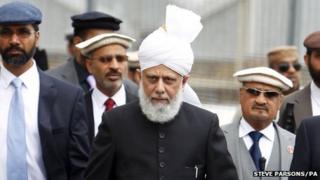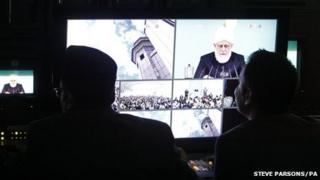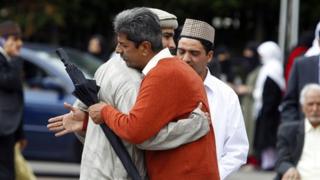 Up to 15,000 Ahmadiyya Muslims have taken part in Eid al-Fitr celebrations in London to mark the end of Ramadan.
Worshippers gathered at the Baitul Futuh Mosque in Morden, which is thought to be the largest of its kind in western Europe.
The Eid celebrations, following a month of fasting, lasted about two hours.
The movement's leader, His Holiness Hadhrat Mirza Masroor Ahmad, gave a message of peace during a sermon that was broadcast live globally.
'Peaceful dialogue'
Some of the worshippers had to watch his address on television monitors in other parts of the mosque because the main prayer room was full.
Rafiq Hyat, national president of the Ahmadiyya community in the UK, said: "His Holiness has always encouraged all the various communities to come together in peaceful dialogue and try and achieve peace in this world through justice.
"He feels the only way we are going to have peace in this world is if there is justice from all sides and once we have justice we will have peace."
Mr Hyat also talked about life as a Muslim following the killing of fusilier Lee Rigby in May.
He said: ""I have lived in London most of my life and I feel that London is one of the most tolerant cities in the world now, it is one of the most cosmopolitan cities.
"I think there is generally an understanding that these people that do such acts are just pure criminals, they have nothing to do with the faith."
The Ahmadiyya Muslim community is celebrating 100 years of its establishment in Britain this year.
Home Secretary Theresa May spoke at an event in the House of Commons in June to mark the centenary.
The community has bases in more than 175 countries and is known for its voluntary work in the fields of education and health.
It was founded in the late 19th Century in India but its leader has been based in the UK since 1984 as a result of persecution in Pakistan.
In 1974 the community was declared non-Muslim by the Pakistan government because of theological differences with mainstream Islam.