King's Cross station redevelopment near completion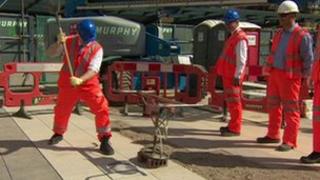 The £550m redevelopment of King's Cross station has entered its final stage, with the completion of the 25,000 sq ft public space outside it.
King's Cross Square, which will include an area dedicated to public art, will open to the public next month.
The 50-day countdown was marked when London Mayor Boris Johnson laid one of the final paving stones.
The square will reveal the original facade of the station for the first time in 150 years.
The area is benefiting from one of the largest regeneration schemes in Europe, with 67 acres of brownfield land being redeveloped to create eight million sq ft of offices, retail and housing.
An estimated 150,000 people a day go through the railway station.
David Higgins, Network Rail chief executive, said the new square would be a "stunning entrance" to the King's Cross area.
"It is the last piece in the jigsaw which has led to more than £2.2bn of private investment transforming the area into an exciting centre for business, knowledge and the arts of which the capital can be proud," he said.