Fall in parking fines issued by London councils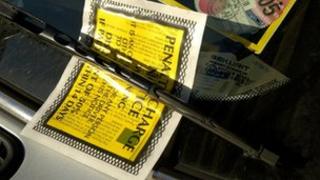 Fewer parking tickets are being issued to motorists by London boroughs, London Councils' figures have shown.
The number of penalty charge notices issued for illegal parking fell by about 90,000 to 4,041,423 in 2012-13.
London Councils said: "Civil enforcement is deterring people from parking illegally."
But parking expert Barrie Segal, from parking appeal website Appealnow.com, said: "A lot of people would say their tickets haven't been fair."
'Transparency and fairness'
London Councils' corporate director of services, Nick Lester, said: "Fewer parking penalties are being issued because civil enforcement is deterring people from parking illegally.
"Anyone who feels they should not have received a penalty charge notice has the right to appeal to the independent Parking and Traffic Appeals Service if they are not happy with their council's response."
But Mr Segal said: "They haven't managed to achieve a restored motorist confidence in the transparency and fairness of parking enforcement carried out by local authorities.
"That's the biggest area of failure.
"What we really need to do is have a public inquiry into the enforcement that would be a more fair, transparent and honest system, than we have at the moment."