'Go home' vans: Liberty targets Home Office campaign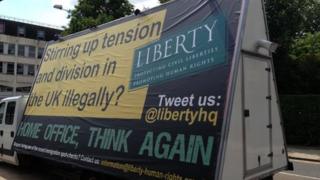 Vans with the slogan "Stirring up tension and division in the UK illegally? Home Office, think again" have been driven around London by civil rights campaign group Liberty.
The organisation is using the vans in opposition to the government's "go home" immigration campaign vans.
The Home Office adverts said: "Go home, or you'll be picked up and deported".
The government said its campaign was "another part of the reforms...that have seen net migration drop".
'Vile' campaign
In a statement Liberty said the Home Office's messages had "racist connotations - mirroring National Front slogans from the 1970s" and the vans were "deeply offensive and divisive and in breach of the Equality Act 2010 so therefore unlawful".
It said its van would circle the Home Office, Westminster and the surrounding area, before visiting Kensal Green and Walthamstow on Tuesday.
But Immigration Minister Mark Harper said the government's campaign was about "making it more difficult for people to live and work in the UK illegally".
Following the Home Office vans being seen on the streets in London boroughs, the Equality and Human Rights Commission said it would probe the campaign.
The Refugee and Migrant Forum of East London told the Home Office it had until 8 August to stop the campaign or it would apply for a judicial review.
The Labour peer Lord Lipsey reported the ads to the Advertising Standards Authority, and the union Unite said the government's campaign was "vile" and it was seeking legal advice.