Warning for Met policeman over rape review failure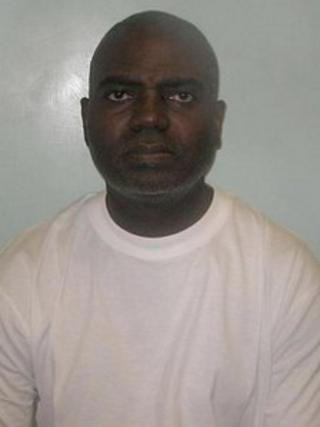 A detective has been found guilty of misconduct over a rape allegation against child killer Jean Say.
A woman made the allegation in 2008 but it was not recorded or investigated.
Det Sgt David Blackbrow was given a written warning for failing to review written records, the Independent Police Complaints Commission (IPCC) said.
Say killed his children Regina, eight, and Rolls, 10, in 2011 when they were staying with him. He was jailed for a minimum of 30 years.
Promotion disqualification
Scotland Yard was directed to hold gross misconduct proceedings by the IPCC and gave Mr Blackbrow the warning for failing to review the paperwork.
It will remain on his file for 12 months, during which time he will be disqualified from promotion.
He had also been accused of telling another officer that the allegations against Say did not constitute rape because the woman had consented, but the force's disciplinary panel was unable to make a finding on that claim.
It was also unable to make findings in relation to failing to record the rape allegation, or the decision not to investigate.
IPCC Deputy Chair Deborah Glass said: "The victim clearly made an allegation of rape involving threats of violence.
'Failings'
"By advising the Sexual Offences Investigation Technique (SOIT) officer that this woman 'consented' and that the allegation did not constitute a rape, our investigation found that the officer failed to protect a vulnerable victim.
"The panel only found the case for misconduct proven in relation to his failure to review the SOIT's report.
"It is disappointing that it took the IPCC to direct the Metropolitan Police Service to hold this hearing."
Earlier this year, the watchdog published a report on the work of sex crime unit Sapphire, between July 2008 and September 2009, and found victims were pressured into retracting statements, meaning an alleged crime had not taken place and thus boosting detection figures.
A Metropolitan Police spokesman said: "We have for some time acknowledged that previous investigation of rape and serious sexual assault within the Metropolitan Police Service was below standard.
"It is as a result of such failings that we have made substantial changes to the investigation of rape and serious sexual assault, both in terms of structure and revised working practices."
It added that the woman's allegation of rape was re-investigated but no further action was taken at her request.