Paul Meehan guilty of lying about Tia Sharp sighting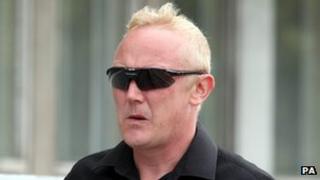 A neighbour of the grandmother of murdered schoolgirl Tia Sharp has been sentenced to five months for wasting police time by making a false report.
Paul Meehan, 40, from Croydon, told police he had seen the 12-year-old walk past him at noon on Friday 3 August.
But by then she had already been murdered by Stuart Hazell, who hid her body in the loft of Tia's grandmother's home in New Addington.
The bus driver had denied the charge at Croydon Magistrates' Court.
'Puffed up'
Meehan was the neighbour of Christine Bicknell.
Hazell was jailed in May for a minimum of 38 years for killing Tia.
A police officer told the court Mr Meehan's statement to police caused a 24-hour delay in Hazell being interviewed.
Prosecutor Jocelyn Ledward had told the court that he described her outfit and person in detail, which complemented Hazell's account of her having walked out of the door at that time.
Ms Ledward said it was possible that Meehan was attention seeking and was "puffed up" by being important to the inquiry.
The court heard there was no suggestion he was in league with Hazell.