Camden Council calls for HS2 compensation audit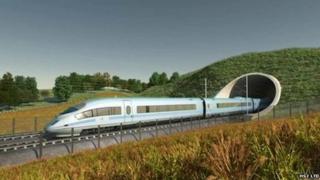 Fears compensation to people living on the HS2 high-speed rail route will be inadequate have prompted a council to call for an audit of the scheme.
Camden Council said compensation would cost more than £1bn in the borough, rather than the £400m suggested.
The Department for Transport (DfT) previously indicated £1.3bn would be used to compensate everyone affected.
In a statement it said: "We have not underestimated compensation costs nor have we set a cap."
Going 'above and beyond'
Camden Council commissioned chartered surveyors Lambert Smith Hampton, Regeneris and Pell Frischmann to analyse the immediate costs of compensation regarding housing, businesses, education and transport.
The report concluded it would cost £429m to re-house more than 480 leaseholders and council tenants and £394m for businesses facing demolition or relocation.
Leader of the Labour-run council, Sarah Hayward, said: "It's time for a forensic audit and full parliamentary investigation so that if government push ahead with this scheme the public have full confidence that taxpayers' money is going to be spent wisely.
"I urge them to get around the table urgently to discuss adequate provision for the homes that will be bulldozed, businesses closed and schools disrupted."
The Department for Transport added: "We have yet to consult on which compensation package will be introduced but we are committed to fairly compensating those who are impacted with generous and comprehensive measures which go above and beyond what is required by law."
The project, currently expected to cost £42.6bn, is intended to allow trains to run at 250 mph (400km/h) from London to Birmingham from 2026 with branches to Manchester and Leeds - via Sheffield - planned by 2032.
Currently, Camden Council is one of 15 local authorities mounting a legal challenge against it, asking judges to order a further assessment of the scheme as a whole.
Their arguments were earlier rejected by the Court of Appeal but they are now appealing to the Supreme Court.