RideLondon: Thousands ride in 100-mile bike race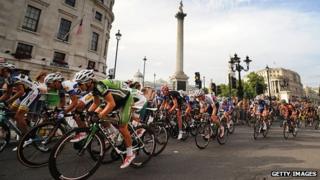 Some 16,500 cyclists have taken part in a 100-mile race from Surrey to London on the second day of the UK's largest ever mass participation cycling event.
Cyclists rode into the capital on a route similar to last year's Olympic road race cycling event before a race among elite cyclists in the evening.
On Saturday families and amateur cyclists rode eight miles through central London.
Overall more than 65,000 people have joined in.
Rugby World Cup winner Matt Dawson, two-time Olympic rowing champion James Cracknell and Olympic champion sprint hurdler Sally Gunnell were among the riders.
'Great day'
James Cracknell was the first celebrity over the finish line with a time of just over four hours and 36 minutes.
"It was brilliant," he said. "Apart from my time, the best thing was the fact that there were thousands of people flooding into the Olympic Park, not to watch something, or see top performers, but to do something themselves.
"I can really see this being like the London Marathon."
London Mayor Boris Johnson finished the course in just over eight hours.
He said: "This is a great day for cycling, and for this city.
"I want to thank the organisers and the wonderful crowd who made all the difference as we cycled by, helping to spur me on to finish the gruelling 100 miles in a respectable eight hours."
On Saturday Britain's double Olympic gold medallist Laura Trott won the inaugural women's RideLondon grand prix.
On Sunday evening, 150 male professional cyclists - including Tour de France green jersey winner Peter Sagan - are racing around 140 mile route.
Mr Johnson had said earlier this week he wanted to turn London into "a paradise for cycling" and that the weekend's RideLondon event was the ideal way to boost participation.
Motorists were warned of travel disruption throughout the weekend.
Transport for London said residents should not "get caught out" and should plan their travel in advance.
It is hoped the two-day Prudential RideLondon festival will boost the number of active cyclists in the UK, attract hundreds of thousands of visitors to London and Surrey, and raise large amounts of money for charity.