Shepherd's Bush emergency housing bed bug 'infestation'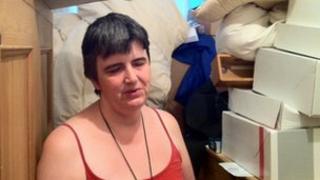 Tenants in emergency housing apartments in west London have said they are living in "wretched conditions" due to an on-going bed bug infestation.
The seven apartments on Askew Road, Shepherd's Bush, are lived in by two disabled tenants and five families, including a six-week-old baby.
Tenant Jane Vernon, who is blind, said: "It's horrendous. every morning I've got fresh bites."
Hammersmith and Fulham Council said: "We are doing everything we can."
Living in 'squalor'
Ms Vernon - who was moved into the emergency accommodation in February - said her bed was infested with bed bugs.
She said: "We have just been put through absolute hell. I'm aware of it [the problem] dating back to last August.
"I'm totally blind, I have no light perception, and I was recently diagnosed as having bi-polar so I'm not really up to dealing with this."
Ms Vernon said her property had been sprayed on two occasions, in May and on Friday, but that between the two appointments the problem had got worse.
The council added: "Pest control experts returned to Mrs Vernon's home again today and found no evidence of bed bugs but fumigated the whole block again anyway to increase the odds that these pests are gone once and for all.
"We are giving Mrs Vernon a new bed and are confident that by treating the whole building - rather than individual flats as we did originally - these resilient pests will be eradicated."
Ms Vernon added: "I don't see why we should be living like this and I don't see why the owner of this building should be getting £1,700 in rent from the council every week just to house us in squalor."
Fellow tenant Hanahe Wharwood, who lives with her two sons aged two and five, said her apartment had been infested for more than a year.
She said: "It's been over a year of nightmares. I have no furniture, I've thrown everything away, everything was infested.
"They [her children] itch constantly and it's really embarrassing. We can't allow our friends here, we can't go to their places, I can't buy things.
"It's really isolating, my relationship has broken down.
"I want to be moved. This place is not for families."