Inquiry calls into ambulance delay after fatal Heston fire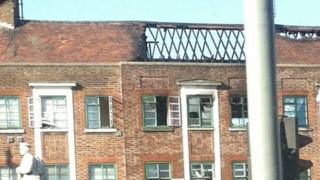 An MP has called on the health secretary to launch an inquiry into how ambulance services in London are able to cope with emergencies.
Feltham and Heston MP Seema Malhotra called on Jeremy Hunt to launch an inquiry after a fatal west London fire.
A man and a woman died following a fire at a building in Heston on 10 July.
London Ambulance Service said the emergency call it received from the police was "in error" treated as "a lower priority".
The Department for Health said: "We have received the letter and will respond shortly."
'Hot weather'
Three people jumped from the Church Road building after a fire broke out in the early hours.
One of them was 44-year-old Shamshad Molohoo, of Central Parade, Heston. She died from head and chest trauma.
The body of the second victim, Ali Choudhary, 27, also of Central Parade, was found inside the building. He died from the effects of inhaling fumes.
Following the fire, Labour MP Ms Malhotra wrote to London ambulance chief Ann Radmore and the health secretary asking them to investigate claims "from those who witnessed the incident that the ambulance took over 15 minutes to arrive".
In her response Ms Radmore explained the ambulance service had faced "an increase in demand arising from the hot weather".
She also said the call received was "in error" treated as "a lower priority".
'Not good enough'
Ms Radmore said it took 13 minutes for an ambulance to be on the scene.
Ms Malhotra said: "The response from the London Ambulance Service on that fatal early morning simply was not good enough.
"We know that cuts to their funding has meant that they are over-stretched and under-staffed.
"There are real concerns that less experienced staff are given too much responsibility - with real risks to London's safety."
A London Ambulance Service spokeswoman said: "We sent four ambulance crews, three duty officers, our hazardous area response team and staff from London's Air Ambulance to the scene, with the first of our staff arriving in 13 minutes.
"The incident happened on a very busy night and we are sorry that we were unable to respond sooner.
"We have received nearly £15m investment this year to help us recruit 240 additional frontline staff to increase ambulance cover and improve the care we provide to patients."