RideLondon: 'Biggest ever' cycle event in London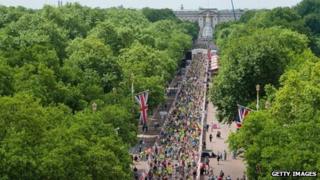 Thousands of cyclists have ridden through central London during the first day of what is expected to be the UK's biggest road cycling event ever.
Families and amateur cyclists took part in the RideLondon cycle, which cruised along the Embankment and Birdcage Walk to end in The Mall at about 16:00.
There will be hand cyclist and elite female races during the evening.
The highlight of the festival is a 100-mile race from London through Surrey, which will take place on Sunday.
By 09:30 both carriageways of Victoria Embankment were full of cycles.
Riders pedalled from Birdcage Walk and Buckingham Palace in the west to Tower Hill in the east.
Among them was magician Robin Fox, who was riding a penny farthing and sporting a vast handlebar moustache. He said: "Any public event that helps to create awareness of cycling is great. The more cycles the better."
Maddox Tanrien, a 46-year-old from Stratford who works for Chelsea FC, said: "I just fancied a day out riding without traffic.
"I cycle every day but this is the first time I've done anything like this.
"The freedom to go anywhere is brilliant because the traffic in London usually is horrible."
Event Director Hugh Brasher said he was "not surprised" at the number of people taking part. He said: "It's a fantastic day out for families - to enjoy London, to get on their bikes, to take in the sights, stop at cafes and generally have a great time."
Londoners were warned about disruption on the roads.
Transport for London said residents should not "get caught out" and should plan their travel in advance.
The area affected by the RideLondon-Surrey100 on Sunday runs from the Queen Elizabeth Olympic Park through east, central and south-west London on to Surrey before finishing on The Mall in central London.
London's Transport Commissioner, Sir Peter Hendy, said: "This is the largest event London's streets will have seen since the Olympics.
"During the London 2012 Games, Londoners and businesses took sensible steps to plan ahead and adapt their travel.
"I'm urging everyone to do that once again so that they don't get caught out and can continue to get around and enjoy the weekend."
Mayor of London Boris Johnson will be one of about 20,000 cyclists taking on the 100-mile (160km) ride.
He said he hoped to see "huge numbers of people doing the 100-mile cycling marathon".
And he claimed: "It shows that London is in the lead in delivering cycling events."
Over the course of the weekend organisers hope 70,000 will have taken part.