More London firms plan to expand 'outside the capital'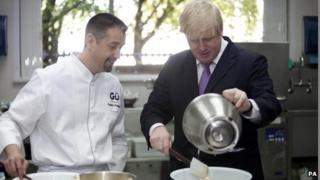 More London firms plan to expand during the next year but fewer intend to do so in the capital, the Confederation of British Industry (CBI) says.
About 62% of firms questioned said they will grow in the next year, compared with 53% when the survey was published in December, the CBI said.
However, only 29% of those said they would do so in London, down from 54% in December.
The Mayor of London's office is yet to respond to the survey's findings.
'Wake-up call'
More than 90% of the London businesses surveyed rated the capital as a "good" or "very good" place to do business compared with other global cities.
However, high operating costs and housing shortages were highlighted as the biggest concerns.
Transport was ranked third in the list of weaknesses.
The three biggest strengths of the capital remained the same as in the last survey: skills and talent pool, access to global markets and proximity to customers and clients.
A spokeswoman for mobile phone company Vodafone, which has its headquarters in Newbury, Berkshire, said she welcomed the survey results.
She said technology made it less important for employees to have "fixed desks".
Valeria Mizuno-Turner's family runs the Incredible Bakery Company, in Lewisham, south-east London, but is planning to move to Northamptonshire.
The niche business needs to work from kitchens where gluten and dairy products are not used and therefore cannot share facilities with others.
She said: "Property is much cheaper in Northamptonshire. They offer grants to businesses to relocate and it's in the middle of the country so it's easier for distribution too."
'Pool of workers'
Payment processing company WorldPay moved 200 jobs in finance and risk monitoring from Aldgate, east London, to Manchester in April.
Chief financial officer Aidan Connolly said: "There's high quality property and a tremendous pool of available workers in Manchester we were delighted to tap into."
He added that it was easier to create something "really special" in terms of the "built environment".
The CBI's London director Sara Parker said: "It's encouraging that more London firms plan to expand but worrying that fewer expect to do so in the capital.
"This is a wake-up call, we need to make sure that London does not lose ground to global rivals."
A total of 138 businesses took part in the survey which was carried out in April and May.