Moorgate Tube crash memorial unveiled in Finsbury Square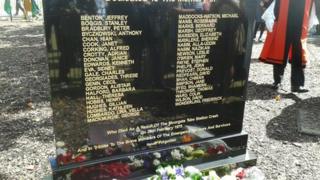 A memorial has been unveiled for the 43 people who died in the Moorgate Tube crash in 1975.
It was the worst peacetime disaster on the London Underground but until now there has been no monument.
The names of all those who died are written on the black granite memorial, in nearby Finsbury Square.
The disaster on 28 February 1975 injured a further 74 people when a commuter train hit an end wall at Moorgate Station.
'Forgotten disaster'
A ceremony to mark the unveiling of the memorial was attended by victims' families and representatives from the emergency services.
Ken Thrower, son of Thomas Thrower who died in the tragedy, said: "I put on my radio and I heard about the accident, and I knew my father was on that train.
"It was a bad time. They never got my father out. It would have been well over three days they were down there."
He added: "I've wanted a memorial for a very long time. I've always called it the forgotten disaster."
Relatives of those who died have long campaigned for a memorial, but several years ago their cause was taken up and championed by author Richard Jones.
Mr Jones, from east Yorkshire, who is writing a book that compiles the stories of all of the victims, said: "People have been waiting for this for the past 38 years.
"When you take the instability of the relatives into account, there are only so many times you can get knocked back."
He said he had spoken to many of the victims' relatives at the unveiling who were "very emotional and extremely grateful".