Plans for Crystal Palace replica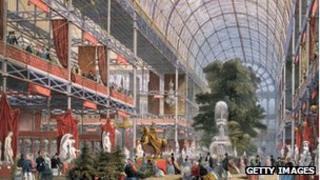 A replica of the Victorian Crystal Palace which housed the Great Exhibition of 1851 could be built by a Chinese developer in south east London.
ZhongRong Holdings is drawing up plans to rebuild the historical structure which burnt down in 1936 in Crystal Palace Park, Bromley.
Bromley Council said all conversations remained in their early stages.
A Mayor of London spokesperson said they had been approached by a potential developer keen to redevelop the park.
Early discussions
"The Mayor is committed to finding a long-term sustainable future for Crystal Palace Park.
"The Mayor and the London Borough of Bromley have been approached by a potential developer who is keen to redevelop a large section of the north-side of the park.
"Discussions between all parties remain at a very early feasibility stage but the plans do not include any residential development.
"Any fully formed proposal would of course be presented to the public for comment in order to build a consensus on the way forward."
A Bromley Council spokeswoman said all they could confirm at this stage was that a number of discussions had been held with a number of parties and "all of these conversations remain at early stages".
She added: "We are continuing to look at and explore all funding options, including grant funding, that might be available to help secure a long term and viable future."
Designed by Joseph Paxton the cast-iron and plate-glass building housed more than 14,000 exhibitors from around the world showing off Britain's industrial achievements.
The palace and the grounds became the world's first theme park offering education, entertainment, a rollercoaster, cricket matches, and even 20 FA Cup Finals between 1895 -1914.
However, the palace fell into financial ruin and a series of fires spelt the end of this historic building.