Croydon council confirms antique Riesco ceramics sell off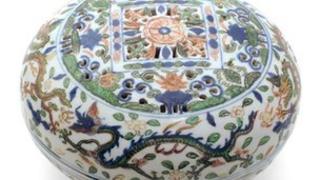 A south London council has confirmed it plans to sell items from its antique Chinese ceramics collection.
Croydon Council plans to auction 24 high value vases, bowls and bottles.
The 230-piece collection, which includes Ming dynasty bowls, was sold to Croydon by local businessman Raymond Riesco in 1959.
But the Museums Association said Croydon's decision "threatens not just its own reputation, but that of the museum sector as a whole".
The council says it hopes to raise money towards redeveloping Fairfield Halls, a 50-year-old arts centre which has a concert hall, theatre and gallery.
'Not the answer'
The remaining 206 pieces of the collection are still on show for the public to see.
Museums Association president David Anderson said: "Croydon's decision to sell valuable Chinese ceramics threatens not just its own reputation, but that of the museum sector as a whole.
"It would undermine the widespread public trust in museums and I strongly urge them to reconsider."
Councillor Tim Pollard, cabinet member for children, families and learning, said: "Clearly this has been a difficult decision to make, and one that we have not taken lightly."
"But we have to look at the bigger picture for culture in Croydon, and the Fairfield Halls is very much at the heart of this."
Mr Anderson added: "I understand Croydon Council's financial difficulties and appreciate the desire to refurbish Fairfield Halls."
"Selling artefacts from the museum collection is not the answer.
"Museum collections are a result of the generosity of past generations to present and future ones."
Arts Council England has also criticised the sale.
It wrote to Croydon Council earlier this month, warning that such a move fell short of national museum standards.