Enfield by-law could make spitting criminal offence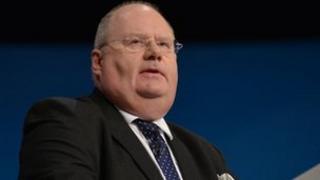 Spitting may become a criminal offence in a north London borough after a by-law outlawing it was permitted.
The London Borough of Enfield applied to the Department of Communities to approve the regulation prohibiting the anti-social habit.
People caught spitting would be issued with a fixed penalty notice and anyone refusing to pay could face prosecution and a fine of up to £5,000.
A month-long consultation will take place before Eric Pickles confirms it.
'Deeply anti-social'
The by-law will then come into force a month after that.
The proposals which were supported by more than 4,000 residents, would make it an offence to spit in the street "without reasonable excuse", but does not cover spitting into a handkerchief or tissue.
Secretary of State, Mr Pickles, said: "Spitting is a deeply anti-social and unpleasant practice... not socially acceptable."
It is thought to be the first British borough to introduce the by-law.
Earlier this year Waltham Forest Council introduced fixed penalty notices of £80 for those caught spitting, but got around the bureaucracy of a by-law by classing it as "waste".
Dr Val Curtis, director of the Hygiene Centre at the London School of Hygiene and Tropical Medicine added: "From a health perspective it is reasonable to say there are many more dangerous things in the world than spitting in the street... but it is a manners issue."