'Oldest woman' in the World dies aged 115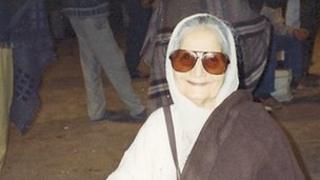 A woman believed to be the world's oldest person has died at the age of 115 years and 199 days.
Sant Kaur Bajwa, from Southall, west London, was born on 1 January 1898 in Pakistan, according to her passport. She has lived in the UK since 1969.
Her family said they believed she was the oldest person, however they have not had this officially verified.
The Guinness World Records said to verify a claim, it needed to see a birth certificate and a passport.
Her grandson Sanjeev Singh Rai said: "Back in the day I don't know if they even issued birth certificates, but her passport has her birth date down as 1 January, 1898."
Up until her death on Friday, Ms Bajwa was believed to be the oldest person in the world.
According to Guinness World Records, the oldest surviving person is Misao Okawa, from Japan, who is 115 years and 99 days old.
Grace Jones, who is 113, is the oldest person in the UK, according to Guinness.
Secret to longevity
Ms Bajwa lived through three centuries, two world wars and the India-Pakistan partition.
"That was a really difficult time for her," her grandson Sukhinda Singh Rai told the BBC.
"To be uprooted from where she was born in Sialkot in Pakistan to Gurdaspur in India was hard."
Although Ms Bajwa's children died before her, she is survived by 12 grandchildren, 26 great-grandchildren and two great-great grandchildren.
Her husband, Munsha Singh, was killed after just six years of marriage, which meant she had to bring three children up on her own.
Then, in 1972, her daughter died from cancer, leaving her to care for her daughter's four children, including twin boys.
Mr Rai said: "As far back as I can remember she was my mother.
"My twin and I didn't know any different. She looked after us diligently."
The family put their grandmother's longevity down to a healthy diet of fresh fruit and vegetables as well as her Sikh faith.
Son-in-law, Ajit Sing, who is now 86, remembers her visits to the local Sikh temple.
"She was God-fearing woman who worshipped daily and went to the gurdwara to offer prayers."
Charlene, the oldest great-grandchild said "she was the glue that has kept our incredibly large family together".
Eleven-year-old Pasha said: "Although it's sad that Granny has passed away but I want to celebrate her long life."