Banned scholar's texts in Woolwich Library
By Ed Davey
BBC News, London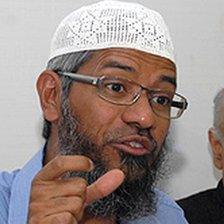 "Divisive" works by an Islamic scholar barred from the UK because his presence was ruled not conducive to the public good are available at Woolwich Library.
Dr Zakir Naik was banned in 2010 by the Home Secretary, who found his comments amounted to "unacceptable behaviour".
BBC London has now discovered three of his works in a public library. They contain controversial statements on women, Jews and terrorism.
Greenwich Council has defended the decision to stock the books.
The library is about 200m from the spot where Lee Rigby, an army machine gunner who had served in Afghanistan, was killed in May.
Hannah Stuart, of libertarian think tank The Henry Jackson Society, said: "I would not want to see any books banned - but there's a big difference between banning books and stocking them in public libraries.
"The fact they're available in Woolwich Library is particularly striking."
In one of the works, Indian national Dr Naik states he is "proud to be a fundamentalist".
The book, written in Urdu, reads: "Every Muslim should be a terrorist.
"A terrorist is somebody who spreads terror and fear.
"Therefore every Muslim should be a terrorist towards immoral people. Any thief or criminal or person of vice should be terrified when they see a Muslim."
Former Islamic extremist Dr Usama Hasan, of counter-extremist think tank Quilliam, warned someone of a jihadist mindset might consider ordinary Londoners "immoral people" or "people of vice".
'Justification for violence'
He was concerned that jihadist sympathisers may therefore read the passage as justification for terrorism.
Dr Hasan, himself a former extremist, said: "There's a small risk someone with a very limited understanding of Islam would take that as a justification for violence.
"It is a very unfortunate choice of words."
The "every Muslim should be a terrorist" statement - and Dr Naik's explanations - were specifically examined by the Court of Appeal when it upheld the scholar's banning from the UK.
Lord Justice Carnwath ruled: "The stark message to an ordinary listener is hardly mitigated by the explanatory reasoning which surrounds it."
Upholding Home Secretary Theresa May's ruling, another judge said his justifications for the quote "belong in the realms of linguistic fantasy".
The judges also referenced a statement Dr Naik made in 2007 describing Jews as "the staunchest enemy" of Muslims.
That quote did not feature in the works at Woolwich Library - but Dr Naik did make numerous other contentious claims about Judaism.
One passage states that while Islam is a religion of equality, Judaism discriminates against non-Jews.
Dr Naik goes on to claim Jews are religiously permitted to keep lost property they find if it belongs to a non-Jew.
He writes that a Jewish judge must always give favour to an Israelite in judgements.
And he states it is religiously allowed for the Jew to treat the non-Jew as he likes.
Dr Hasan said: "These are claims and generalisations which are simply not true.
"There are English Defence League caricatures of Islam on a similar level - it's divisive and not helpful at all."
Another chapter is entitled: "The inequality of male and female witnesses."
In it Dr Naik argues a male testimony is worth that of two females in financial matters.
He writes: "It is not true a female witness is always equal to half of a male. But in a few specific situations this is the case."
Dr Naik also claims women should receive only half the inheritance received by male relations, because men are the breadwinners.
Dr Hasan responded: "I hope there is a new generation of Muslim thinking in the UK which will do away with the fundamentalism that Zakir Naik represents.
"I would urge people who run public libraries not to promote the discourses of fundamentalists who are preaching against non-Muslims."
After being told about the material, a Home Office spokeswoman said: "We are committed to tackling extremism in all its forms.
"We will use the full force of the law to disrupt extremist activity. That includes challenging extremist and poisonous narratives.
"Local authorities have a responsibility to consider whether certain texts are appropriate for public libraries."
The Muslim Council of Britain declined to comment, but has previously been supportive of Dr Naik, describing him as a "voice ready for debate and discussion" and a "respected Muslim scholar".
And a spokesman for Greenwich Council said: "We are not aware of any lists of books banned by the Home Secretary.
"Adolf Hitler's Mein Kampf has been publicly available on the shelves of Britain's public libraries for decades and remains available for any citizen in the UK to purchase."
Dr Naik could not be contacted for comment.
At the time he was barred his lawyers described the move as "barbaric and inhuman" and a "political decision to gain political mileage".