Tia Sharp murder: Agencies cleared of any blame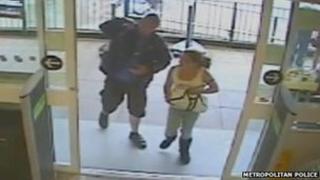 An inquiry into the welfare of murdered London schoolgirl Tia Sharp, who was killed by her grandmother's partner, Stuart Hazell, has cleared the agencies involved of any blame.
But the report did find chances were missed to deal with her poor school attendance and the use of drugs by some members of her family.
It said there was "confusion and miscommunication" between police and the council when she went missing.
Hazell, 37, was jailed for life in May.
'Inappropriate tolerance'
Tia was reported missing from New Addington, south London, on 3 August last year.
Prosecutors said she was killed in the early hours of that day following a sexual assault.
Hazell told told Tia's mother Natalie Sharp and his partner Christine Bicknell that she had gone shopping in Croydon and had not returned.
The report, by Merton Safeguarding Children Board, refers to Tia as Child A, and Hazell, who was ordered to serve a minimum of 38 years, as Mr F.
The serious case review executive summary, written by Kevin Harrington, said: "There was no information known to any agency which would suggest that Child A's life would end as it did, or indeed that she was at any risk of physical harm."
It added that poor attendance at her junior school "was not robustly addressed and there was an unsatisfactory lack of challenge in the school's approach".
"Child A's mother avoided all attempts to explore and tackle this issue. No professional discussed the possible reasons for poor school attendance directly with her or with Child A."
Regarding drugs, Mr Harrington reported: "There is substantial evidence that Child A lived in a situation where the use of illegal drugs was an everyday occurrence."
He said there may have been an "inappropriate tolerance by some professionals of the use of cannabis".
Police records showed Tia was present during one of three searches of her house in 2004 and March and April 2008 in which drugs were found.
'Some confusion'
The independent review chaired by Keith Makin found there were some weaknesses in Merton's out of hours response to Tia's disappearance, "including a failure to notify a senior officer".
There was "some confusion and miscommunication" between Merton and the police about their responsibilities while Tia was missing.
The report said: "Police action was focussed on Child A's disappearance, while the local authority still had to reassure themselves that there were no grounds for concern for other children of the family."
The report also disclosed that in November 2011, some months before Tia died, a person contacted her school and advised that Hazell should be added to the list of people who could be contacted about her.
It added: "This was not checked with Child A's mother and it is not clear if family members were aware of this."