Victoria station killing: Junior Bayode jailed for manslaughter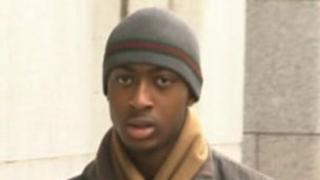 A man has been jailed for 11 years for the manslaughter of a schoolboy who was chased and attacked by a gang at a central London train station.
Sofyen Belamouadden, 15, of Acton was killed by the youths from a rival school at Victoria station in 2010.
Junior Bayode, 19, was convicted in October of manslaughter and conspiracy to inflict grievous bodily harm.
In total 20 people have been sentenced in connection with the death, three for murder and five for manslaughter.
Twelve others received sentences for lesser offences and three were acquitted.
Bayode of Streatham Common was the final person to be sentenced in relation to the death.
During the trial at the Old Bailey it was heard that Sofyen, a GCSE student, was chased and attacked in front of hundreds of commuters during rush hour on 25 March 2010.
He was stabbed nine times in 12 seconds during a clash between two sets of pupils from west London schools.
Obi Nwokeh, 20, Christopher Omoregrie and Samson Odegbune, both 19, were sentenced to life for murder in April, with minimum terms of 18 years.
Victoria Osoteku, 20, the only woman to be charged, was jailed for 12 years for manslaughter in April.
Adonis Akra, 18, Samuel Roberts, 19, and Femi Oderinwale, 18, were also jailed for manslaughter.
The trial heard that the "ferocious and merciless" attack on the schoolboy was sparked by a minor confrontation the day before in the fast food area of Victoria mainline station.