Urgent talks over Croydon antique ceramics sell-off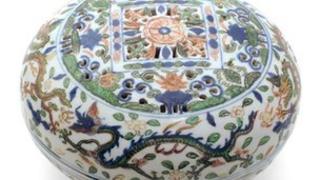 The Museums Association is in urgent talks with Croydon Council over plans to sell items from its antique Chinese ceramics collection.
They were sold to Croydon by local businessman and collector Raymond Riesco in 1959.
The council is hoping to raise £13m towards redeveloping Fairfield Halls property.
But the Museums Association said the entire lot should be given to the British Museum.
The council wants to sell 24 pieces from a 124-piece collection which includes Tang dynasty tomb models and Ming dynasty bowls dating from Neolithic times to the 19th Century.
It is hoped the money raised will help improve Fairfields Halls, a 50-year-old arts centre which has a concert hall, theatre and gallery.
It was owned by the council until 1993 when it became an independent charity and according to its website Croydon Council will see the site through "to a £25m redevelopment from three to four years."
A council spokesman said: "The decision to sell the items, which are currently being stored in a secure central London location, comes after escalating insurance and security costs meant that the full collection was becoming too expensive to maintain.
"The council is currently seeking stakeholders' views including national organisations and museums.
"The proposal has the backing of the Riesco family, providing the proceeds of the sale are used to support culture in the borough. It would see income from the sale be invested in the redevelopment of the Fairfield Halls.
"There is also the possibility the Ashcroft Theatre (Part of Fairfields Halls) could be renamed the Riesco Theatre in tribute to the family's contribution to the borough's culture."
The Museums Association website said if Croydon can't afford to show or insure the bequest it should give the entire lot to the British Museum.
Judith Martin, project organiser of the Industrial Buildings Preservation Trust, said: "Flogging bequests is a guaranteed way to ensure no-one will leave anything to the public estate again, thus impoverishing future generations even more."
The proposals are due to be considered at the council's corporate services committee on 24 July.
Correction 10 September 2013: This story has been amended to clarify that the Museums Association was not seeking talks, but was already in discussions with the council.