Shard climb protest: Greenpeace activists bailed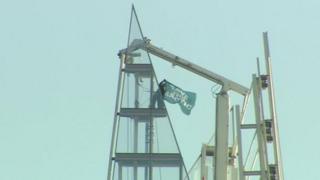 Six Greenpeace activists who were arrested after climbing to the top of London's Shard have been bailed.
The six women were arrested on suspicion of aggravated trespass after their 16-hour ascent on Thursday in protest against Arctic oil drilling.
At the skyscraper's summit two of them unfurled a blue flag with Save the Arctic written on it. The Shard is 1,016ft high (310m) and has 87 storeys.
The woman were bailed to return to a police station on 15 August
They evaded security guards to begin their climb in the early morning, saying the protest was intended to put Shell and other oil companies in the spotlight and they live-streamed the stunt using head cameras.
As the protesters reached the summit, Greenpeace UK executive director John Sauven said: "It is an honour to stand here at the foot of Europe's highest building and witness this remarkable achievement by these women.
"Watching them fly the flag to protect the Arctic from the top of the Shard is a remarkable sight."
But in a statement Shell said oil and gas production in the Arctic "was not new".
The Qatari-owned building, which was opened in February, contains offices, restaurants, a hotel and residential apartments.