Kitten found on London Tube train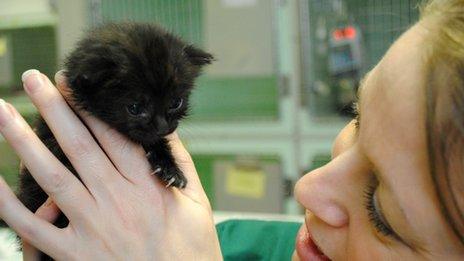 A kitten has been found in a box on a London Underground train.
The tiny ball of dark fur - thought to be four weeks old - was handed to staff who passed her on to the animal charity Blue Cross.
Veterinary nurses cleaned up the young cat, who was found on Monday at about 21:00 BST covered in a sticky substance.
They named her Victoria after the central London station where she was found.
She was found on the District Line train by a passenger who then handed her over to station staff.
A spokesman for the charity, based near to Victoria station, said: "It is a mystery as to why she was left on her own, without her mum or possible littermates.
"Little Victoria is certainly one of the most unusual items of lost property handed in to London Underground."
London Underground said: "We see a lot of lost property at Victoria station, but it isn't usually so wriggly!
"This poor little kitten needed urgent care so we were glad the Blue Cross were nearby to step in and help little Victoria. We are all really pleased that she is in such good health."
Because the kitten is so young and should be feeding from her mother, the nurses have been hand feeding her and providing round-the-clock care.
Victoria is doing well, the charity said, and will be transferred to its rehoming centre in Lewknor, Oxfordshire, next week.
Related Internet Links
The BBC is not responsible for the content of external sites.