Dogan Ismail murder: Boy jailed for 13 years over phone row stabbing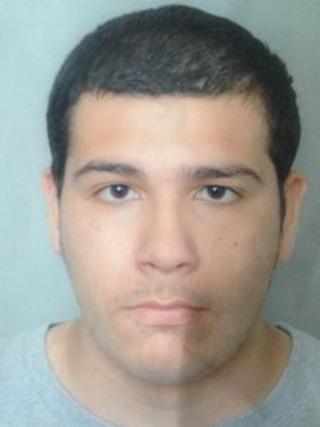 A teenage boy has been jailed for 13 years for murdering a 17-year-old who went to a south London housing estate to try to retrieve his brother's stolen mobile phone.
Dogan Ismail was knifed through the heart after going with his brother, 15, to get back his BlackBerry phone from the Aylesbury estate in Walworth.
The brothers confronted Dawda Jallow, 16, from Peckham, who fetched a knife.
He was convicted of stabbing Dogan on Thursday.
'Difficult background'
Passing sentence at the Old Bailey, Judge Christopher Moss told Jallow that the attack was carried out with "force and ferocity", but added that he could not be sure whether he intended to kill his victim.
He described Jallow as a "troubled boy who appeared to have a difficult background" because of the lack of a relationship with his father.
He said: "You have said you recognise the effect that your actions have had on those who loved him [Dogan] and I can only hope that is the case."
Jallow had been caught carrying a knife twice before the attack took place on 30 December, the court heard.
His mother had sent him back to The Gambia, where they are originally from, to try and keep him out of trouble, but when he returned he proved "disruptive" at school.
On 28 December, Dogan's younger brother was visiting a friend on the Aylesbury Estate when he was stopped by a group of youths, including Jallow, who stole his phone.
Dogan and his brother returned to the estate to try to track down the culprits and reclaim the phone.
'Highly ambitious'
They were led to Latimer House where Jallow went into a flat before returning with a large knife that he plunged into Dogan's chest.
In a victim impact statement read out in court on her behalf, Dogan's mother, Ozel Ismail, described her son as a "highly ambitious" boy with dreams of setting up a business of his own.
She said the Walworth Academy sixth-form student was "responsible, caring" and "a young man with integrity".
Det Ch Insp Matt Bonner welcomed the sentence for what he described as an "appalling and violent attack".
He added: "Jallow did all he could to evade capture in the weeks following the attack, until he realised there was nowhere left to run.
"He will now spend a significant amount of time behind bars."
The murder was the second fatal knife attack on the Aylesbury Estate in just four months - Shaun Chambers, 21, was stabbed to death in the same spot last September.