London roads £30bn plan unveiled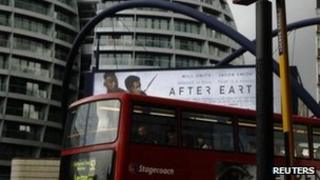 A £30bn blueprint which includes digging road tunnels beneath busy junctions has been put forward by a task force set up by the London mayor.
The 20-year vision includes changes to the North and South Circular roads and major schemes at Vauxhall, Waterloo, Elephant and Castle and Old Street.
The RAC said it was "exciting" to see tunnelling projects akin to a "Crossrail for cars" being considered.
But the Liberal Democrats said the tunnelling idea was "nonsensical".
The proposal includes more bus services, cycling and walking routes, and 20mph zones.
It also envisages more people travelling at off-peak times to cut rush-hour congestion, as well as 19 road schemes, supporting more than 300,000 jobs.
'Requires major investment'
There will also be attempts to make streets greener, by planting 1,000 more trees and having more low-energy street lighting.
London's Transport Commissioner Sir Peter Hendy said: "We welcome the task force's vision, as it is one we share.
"It rightly recognises that delivering the vision requires major and sustained investment in London's road and public transport networks.
"We'll now work with partners, including London's boroughs, to turn this vision into reality."
Jo Valentine, chief executive of business group London First, said: "Bold ideas such as 'flyunders' and smarter road charging are common in other global cities, and we encourage Transport for London to examine how they might now work in London."
Professor Stephen Glaister, director of the RAC Foundation, said: "Space is at a premium in London and we have to use imaginative ways of generating new road capacity to replace road space allocated for other improvements, while recognising the need to improve safety and cut emissions.
"Going underground has proved successful in cities such as Paris and Munich, and of course is no novelty to Tube passengers."
But Caroline Pigeon, Lib Dem London Assembly member and deputy chair of the Transport Committee, said: "The whole idea that you can tunnel around London, I think, is going back to the '80s, thinking we can build huge urban motorways through London.
"... It doesn't make sense and it won't add up - [there's a] £30bn estimate, but I'm sure it'll cost at least double that, and the reality is we'll lose homes around these roads and so on."