Ceremony held at memorial park for 7/7 bomb victims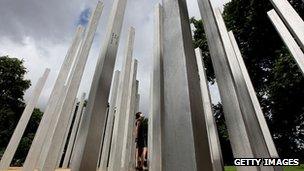 A minute's silence has been held in memory of those injured and killed in the 7 July bombings eight years ago.
The commemoration ceremony was held at the 7/7 memorial in Hyde Park where survivors talked about their experiences.
Tim Coulson, a survivor who smashed a train window so he could help injured people, read out the names of those who died in the blast.
The attacks in London killed 52 people on three Tube trains and a bus in 2005.
About 150 people attended the ceremony which closed with the laying of flowers at the memorial.
It has 52 stainless steel pillars, each one representing a victim.
Jo Dover from the Tim Parry Johnathan Ball Foundation, which organised the event, said: "We need to remember and respect those who lost their lives and those whose lives have changed forever following the horrific events of that day.
"We are privileged to support the families and survivors to organise this event, as part of our wider work in supporting victims of terrorism and conflict."
The foundation supports people affected by political violence, conflict and acts of terror.
Related Internet Links
The BBC is not responsible for the content of external sites.