London Ambulance in busiest day for 999 calls as heat hits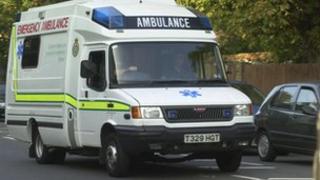 London Ambulance recorded its busiest day of the year so far on Saturday after temperatures rose to 28C (82.4F).
Staff in the control room answered 6,102 calls, compared with 4,592 calls two weekends ago before the hot weather started.
The ambulance service said calls came from those with medical conditions made worse by the heat and people drinking too much alcohol in the sun.
Between 22:00 and 23:00 BST was the busiest hour, with 369 calls.
Breathing problems
Director of service delivery Paul Woodrow said: "We always see a rise in 999 calls in hot weather; this is due to various reasons including people forgetting to keep hydrated and the heat making pre-existing conditions like asthma worse.
"I would urge all Londoners out enjoying the hot weather this weekend to stay safe by making sure you carry any medication with you at all times, keep cool by sitting in the shade, drink plenty of water and avoid drinking alcohol in the sun."
He said among the types of calls in which the ambulance service saw an increase were patients with breathing problems and chest pains.
Staff also treated more patients with alcohol-related injuries and illnesses.