First 'Boris bike' cyclist killed in lorry crash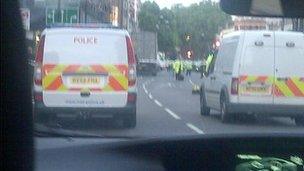 A cyclist riding a "Boris bike" has died after a crash involving a lorry in east London.
The 20-year-old woman was struck by the lorry on Barclays Cycle Superhighway 2 outside Aldgate East station at 18:30 BST on Friday.
She was taken to hospital by ambulance but was later pronounced dead.
Transport for London said it was the first fatality involving a Barclays Cycle Hire bike since the scheme started in 2010.
The Met Police said next of kin had not yet been told of the young woman's death.
A post-mortem examination will take place in due course, they said.
The driver of the lorry stopped at the scene. No arrests have been made.
Caroline Pidgeon, from the Liberal Democrat London Assembly Group, said the initial superhighways were "flawed" as they were "little more than blue paint put down on the road".
She added: "London needs to rapidly learn from practices in Denmark and Holland and ensure we have widespread segregated cycling lanes and junctions that are safe for all road users."
TfL's Leon Daniels said: "Our thoughts go out to the friends and family of the female cyclist who tragically died following a collision with a heavy goods vehicle on Whitechapel High Street.
"We understand she was riding a Barclays Cycle Hire bike.
"Transport for London has a range of measures already under way to further reduce the number of collisions involving cyclists across London and we will be assisting the Metropolitan Police with their investigation into this tragic incident."
Cycle Superhighways are blue painted routes designed to make roads safer for cyclists.
Barclays Cycle Superhighway 2 currently runs from Bow to Aldgate.
Four highways have been opened so far, with a further eight to be introduced by 2015.
Related Internet Links
The BBC is not responsible for the content of external sites.