Whittington Hospital downsizing plans dropped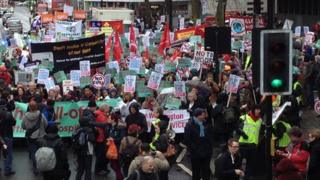 Plans to downsize a north London hospital have been abandoned following protests, with fresh proposals to be presented next week.
Whittington Hospital in Archway had intended to sell six blocks currently used as wards and staff accommodation.
The Defend The Whittington Hospital Coalition said this would mean 230 fewer beds and the loss of 570 jobs.
However, hospital bosses have now told councillors at Camden Town Hall the plan has been ripped up.
The proposed changes, detailed in the Estates Strategy report, included:
In-patient wards to be closed and beds for the elderly and new parents axed
All NHS staff accommodation to be closed and sold off
Births at the hospital to be capped to 4,000 a year
Attacking the ill-fated plan, Shirley Franklin, chairwoman of Defend The Whittington Hospital Coalition, had said: "Sick people need to know they will be taken care of when they are at their most vulnerable.
"Underpaid staff with insufficient time to treat their patients is not the answer."
Confirming the abandoned plan, Dr Greg Battle, Whittington Health's medical director for integrated care, said: "Following thorough engagement with our staff, the local community and our partner organisations, we have rethought our plans.
"We would like to thank everyone who participated in our listening exercise and look forward to sharing our revised clinical strategy next week."