Grow Heathrow: Campaigners rejected by Court of Appeal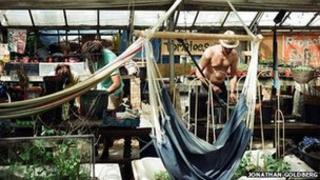 Squatters who set up a community garden on private land close to Heathrow Airport have failed to overturn a High Court ruling ordering them to leave.
Last year, the court ruled Grow Heathrow had to vacate the land because owner Imran Malik should not be denied his ownership or right to use it.
Grow Heathrow has now had its appeal rejected at the Court of Appeal.
Campaigners spoke of their disappointment and vowed to take the matter to the Supreme Court.
Joe Rake said: "We are very disappointed. We feel like this isn't the end yet."
The Court of Appeal judge rejected a request by the campaigners to appeal to the Supreme Court, but protesters said they were still planning to apply to appeal "outside of the case".
Their lawyer, Jayesh Kunwardia, of Hodge Jones and Allen, said of Wednesday's judgement: "For the first time, an Appeal Court judge has acknowledged the right to a home and family life should be considered in eviction proceedings by private landlords.
Third runway
"This is a huge step forward for tenants or squatters facing unreasonable evictions, especially where the residents have young children.
"We now want the Supreme Court to determine if the Human Rights Act should be taken into account when private landlords evict."
The land in Sipson, in the borough of Hillingdon, in west London, was originally earmarked for a third runway at Heathrow.
Since September, the offence of squatting in a residential building has carried a maximum penalty of six months' imprisonment, a fine of up to £5,000 or both.
It is a civil, not criminal, offence to squat in commercial properties.