Cost of updating Parliament toilets to be £100,000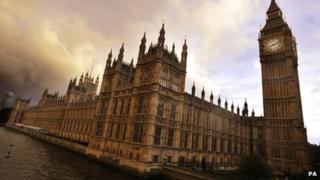 The cost of refurbishing two toilets in the Palace of Westminster could cost up to £100,000, according to a Commons contract on a government website.
Lavatories in the Salisbury Room area of the House of Lords have not been updated since the 1990s and are said to be in an "unacceptable condition".
Peers, staff, and visiting dignitaries use the toilets, which give a "poor image" of the Palace, a document says.
The work is expected to begin in August and will be completed in about 42 days.
Listed building
Refurbishment of the lavatories will include updating the existing men's and women's toilets and providing a unisex disabled accessible facility.
The upgrade work would need to be carried out in line with English Heritage requirements for the Grade I listed building.
The contract put out to tender says the work includes installing "historic oak panelling", minor demolition work, decorations and sanitary equipment.
A House of Lords spokesman said: "The House of Lords has opened a procurement process to refurbish two toilets on the principal floor to ensure we comply with disability access legislation.
"As with all procurement we undertake this will be done with a determined focus on value for money for the taxpayer."