Constable's The Hay Wain attacked at the National Gallery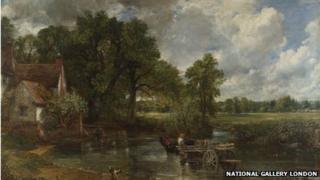 A protester has been arrested after gluing a photograph to a John Constable masterpiece in the National Gallery.
The man, thought to be linked to Fathers4Justice, stuck a photograph of a young boy to the 1821 painting The Hay Wain at the gallery in Trafalgar Square.
He was arrested in the gallery and is now in custody, Scotland Yard said.
The attack did no lasting damage to the work of art, a gallery spokeswoman said. The painting is back on display.
She added: "Conservation staff were on the scene very rapidly and the painting was removed for treatment.
"No damage to Constable's original paint occurred and there is no lasting damage to the painting."
'Deliberately misleading'
The spokeswoman praised "the prompt action and quick thinking" of staff who intervened before any more lasting damage could be done.
Constable's world-famous oil painting shows an idyllic rural scene with a cart in the River Stour in Suffolk.
It comes as Fathers4Justice said it was abandoning its five-year "attempted engagement with the political establishment".
The protest group said on Friday it was refusing to engage with the government, police, courts, the judiciary or any other organisations involved in family law.
It also says it is refusing to deal with the national media because of its "deliberately inaccurate and misleading reporting of the campaign".
The National Gallery incident coincided with a Fathers4Justice campaigner appearing in court accused of vandalising a portrait of the Queen in Westminster Abbey.
Tim Haries, 41, from Doncaster in South Yorkshire, appeared at Southwark Crown Court in London charged with criminal damage to the Ralph Heimans canvas, which was daubed with spray paint on 13 June.